"Jill has an ability to promote such positive and exciting energy while presenting. Her presentation encouraged the students to use their imaginations in their own writing. We absolutely would invite Jill back in the near future."

—Mrs. Powell, Holland Rd. Elementary School, Lake Fletcher, NS
School and Library Visits
These are excellent opportunities for students to meet authors, ask questions, listen to a reading, engage in a hands-on workshop, and celebrate books. If you'd like to organize a school or library visit with me, please get in touch. I'm happy to talk you through the process of applying for a subsidy to reduce the cost significantly. At first, the process may seem daunting, but it is actually very straightforward. The Writers' Union of Canada website provides lots of information about booking an author.
Note: The Writers' Union of Canada is "now accepting applications for the 2015-16 funding year for visits taking place between April 1, 2015 – August 31, 2015." Subsidies are filled quickly on a first-come first-served basis, so don't delay! The Writers' Union of Canada has lots of information on its website about  Ontario Writers-in-the-Schools. For more details, see Program Overview and Program Info. See also Guidelines for Successful School Author Visit and FAQ- Writers-in-the-Schools Readings. For information on my talks and my rates, see my Member page on the Writers' Union of Canada website.
Canada Council for the Arts also provides funding for readings.
Customized Talks and Workshops
I'm happy to create a presentation or workshop that is specially tailored for your  class, school, or group. This can be a great way to focus on specific needs you'd like to target. My presentations support aspects of the Ontario Curriculum. My 25 years' experience in educational publishing means I am knowledgeable of curriculum content. I like to involve student participation as much as possible.
In May 2014, I was honoured to participate as an author in the TD Canadian Children's Book Week. I spent the week touring in schools and libraries in Alberta. In November 2010, I had the good fortune to attend the Labrador Creative Arts Festival as a Visiting Author. The experience was rich and rewarding, and the children I met were so lovely. This interview, which took place in a Happy Valley-Goose Bay school, is a cherished memento from that trip. Listen to the interview about the book
Other venues I've attended as a presenter include Children's Book Week Gala (Halifax, 2002), Word on the Street (Halifax, 2003), Hackmatack Children's Choice Book Awards Ceremony (Moncton, 2004), and the Eden Mills Writers' Festival (Eden Mills, 2012).
"Everyone commented on how much they enjoyed the presentation and the children were keen to take part in the circus experience. Students were excited to be the first to sign out Jill's book."
—Sandra Bartlett, Halifax, NS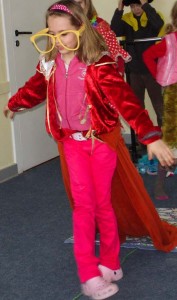 Walking the fake tightrope