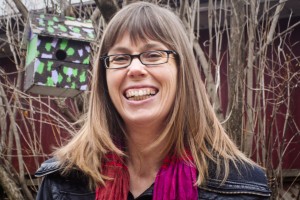 Jill Bryant is a Canadian writer who specializes in children's nonfiction. Born in Toronto, Jill grew up in Elora and Eden Mills, Ontario. After graduating from the University of Waterloo, with a degree in English Literature (Drama minor), she and her now-husband Daryn backpacked from England to India, which turned into a lifetime interest in travelling. Jill's first book, Sew Your Own Bean Bag Friends, was published in 1998. She is the author of Dazzling Women Designers, Backyard Circus, Making Shadow Puppets, Amazing Women Athletes, and others.
When she isn't writing books for children, Jill edits textbooks and educational materials. She has worked as an in-house editor and currently freelances for many publishers, including Scholastic, McGraw-Hill Ryerson, and Nelson. For over five years, Jill enjoyed contributing science articles to KNOW magazine. Then she took on the exciting and rewarding role of managing editor at KNOW. The magazine closed on February 1, 2012.
Swimming, canoeing, and cross-country skiing are among her favourite recreational activities. Jill has lived in Japan, the U.S., England, and Germany. She now makes her home in historic Kingston, Ontario with her husband and their two school-aged daughters.